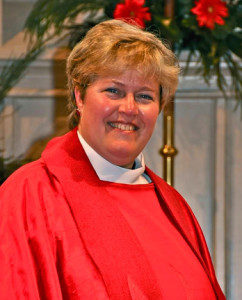 The Reverend Joan Testin, our Rector
Joan+ (or Vicar Joan, for those who prefer to be formal) went to seminary after teaching music and drama for 23 years. She was ordained in 2010, and served in the Diocese of Easton before coming to Rhode Island. She lives with her spouse Barbara, and their two rambunctious Norfolk Terriers, Skipper and Abbey. Click here to visit her blog, "Psalm 151"
The Reverend Richard Shippee, our Associate Rector
Richard+ (or Father Richard, for those who prefer to be formal) is our Associate Priest. He comes to us after many years of serving Rhode Island churches. His passion and ministry are for Pastoral Care and Spiritual Direction. Richard lives with his wife Carol and their three children.
Brittany Dyer, Music Minister
"I am so excited to work with the music ministry at Emmanuel. I have a passion for sacred music and I am excited to be able to grow as a director and utilize my skills alongside you in worship. Currently, I am very involved in local theater, and teaching chorus and drama at Mount Saint Charles Academy. I have been singing in organized choirs for over twenty years and working as a conductor/ director for almost 10 years. It is very clear that you have an amazing community at Emmanuel and I am eager and so very excited to be a part of it all."
Brittany conducts the Adult Choir, the Children/Youth Choir, and the Schola at Emmanuel.
Contact Us
The Emmanuel Church office is located in the back of the Rectory, which is the grey house on the grounds behind the church. Just look for the large sign that can probably be seen from Saturn!
Address:
120 Nate Whipple Highway
Cumberland, RI 02864
Office Staffed Tuesday – Friday, 9:30am – 12:30pm
Church 401-658-1506
Sally Morelle, Parish Secretary
Email The Rev. Richard Shippee
Please note: It is recommended that you call before stopping by to be sure the person you are looking to meet with is in. Clergy are available for appointments outside of office hours including evenings and Saturdays. Call the office to schedule an appointment.